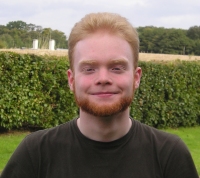 Mr Nils J. Krichel
Our website has moved to www.single–photon.com. This page is now found here. Please update your bookmarks and links.
Group Member – 2008 to 2011
Nils J Krichel was born in Erkelenz, Germany in 1985 and lived in Cologne until he began his studies on Physics at RWTH Aachen University in 2004. During an exchange term at Heriot-Watt University in 2007, he worked on the group's time–of–flight laser ranging projects, following the work of Dr Ross D. Harkins. Nils graduated with a MSc with Distinction in Photonics and Optoelectronic Devices from the University of St Andrews and Heriot–Watt University, Edinburgh in 2008. In September 2008, he started a PhD under the supervision of Prof Gerald S. Buller, continuing his work on time–of–flight laser ranging within the group, following the work of Dr Aongus McCarthy and Dr Robert J. Collins. He is a member of the Institute of Physics, German Physical Society (DPG) and SPIE. Since 2011 Nils has worked for Helia Photonics in Livingston.
In his spare time, Nils enjoys rock climbing, cycling and hillwalking.